It is not necessary to have a loss of consciousness to suffer permanent brain injury.
Source: Definition of Mild Traumatic Brain Injury Developed by the Mild Traumatic Brain Injury Committee of the Head Injury Interdisciplinary Special Interest Group of the American Congress of Rehabilitation Medicine.
J Head Trauma Rehabil 1993:8(3):86-87
Contact the Brain Injury Law Group
Call 800-992-9447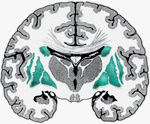 There are many ways to categorize brain injury symptoms, with the most accepted in concussion cases to be a dichotomy between neurological and neurobehavioral. The problem we have with this distinction, is that it is based upon the assumption that certain symptoms have an organic cause and that the balance have a psychogenic cause.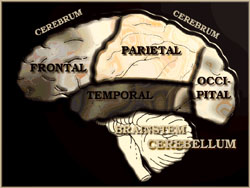 We do not believe that most cognitive and emotional issues can be classified as strictly psychogenic, as they are the natural and expected consequence of a clear cut physical pathology, which in most concussion cases, is damage to neural connectors as a result of diffuse axonal injury. Further, we find that most symptoms are caused by an interplay of neurological, cognitive and emotional responses to such deficits and that headache and sleep disturbance cannot be pigeonholed into even these three categories.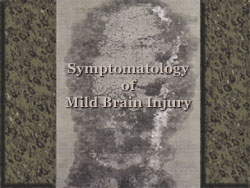 Why subtlebraininjury.com?
subtlebraininjury.com is a website with a mission to educate with respect to the magnitude of brain injury which does not involve coma - injuries that have been labeled by names which grossly minimize their potential impact upon the life of the injured person. This site is brought to you by the advocates of the Brain Injury Law Group, a community of plaintiff's trial lawyers across the United States united by a common interest in serving the rights of persons with traumatic brain injuries and a common commitment to fully understanding the anatomic, medical and psychological aspects of TBI.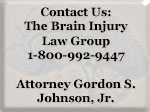 Additional Information

For a full treatment of the topic of brain injury, and recovering adequate compensation for those who have survived such injury, please visit our other pages. tbilaw.com A general treatment of all types of brain injury, including severe brain injury and concussion, with a special focus on the legal aspects of recovering full and adequate compensation for such injuries. tbilaw.com has been at the cornerstone of the web advocacy of the Brain Injury Law Group since it went online in 1996. waiting.com A page designed to assist those with issues regarding coma, especially in the acute phase when the doctors are saying "I just don't know." vestibulardisorder.com Addressing vertigo and dizziness resulting from trauma as well as information and resources for vestibular disorders.
Disclaimer:
The materials on this World Wide Web site are provided purely for informational purposes and are not legal advice. These materials are intended, but not promised or guaranteed, to be correct, complete, and current. This web site is not intended to be a source of advertising, solicitation or legal advice. Therefore, the reader should not consider this information an invitation for an attorney-client relationship. Readers should not act or rely upon any information contained in this World Wide Web site and should always seek the advice of competent counsel.
The owner of this web site is a law firm, the Johnson Law Office which organized the Brain Injury Law Group. The Johnson Law Office is licensed to practice in the States of Wisconsin , Illinois and Michigan. The Brain Injury Law Group does not wish to represent anyone desiring representation based upon their viewing any portion of this World Wide Web site that fails to comply with all legal and ethical rules in such individuals state. While not intended to do so, but in a good faith effort to comply with all rules and regulation which may be applicable to it, the Brain Injury Law Group hereby informs readers that this site may be construed as advertising and promotional materials. The Brain Injury Law Group makes no representation that it can obtain the same results as reported in this web site in other legal matters.
The transmission of an e-mail request for information does not create an attorney-client relationship, and you should not send us via e-mail any information or facts relating to your legal problem. If you are a client, remember that e-mail may not be secure. WE BELIEVE THAT THE BY FAR PREFERRED METHOD FOR YOU TO CONTACT US IS BY PHONE AT: 1-800-992-9447.
1-800-992-9447
g@gordonjohnson.com
©Attorney Gordon S. Johnson, Jr., 1997-2008.